If you are looking to host a casino night event or a party or fundraiser, contact the qualified staff at FHCE Events. We are committed to helping you plan the best casino party. Our staff is able to host events in small or large venues and can supply any party with a selection of game tables accompanied by professional dealers. We are FULLY INSURED!! Annually, Full House Casino is involved in hundreds of parties across the country with a variety of clients in cities like New York, San Francisco, Los Angeles, Orange County, Austin, or Houston/Dallas. Checkout our game tables and see that competitors' cannot compare their merchandise with our's.
Casino Table Party Rentals
Checkout Full House Casino's Top Quality Texas Hold 'em Poker Tables. Contact our staff to rent poker tables for your next poker fundraiser and poker tournament event at 855-386-7789
Full House Casino provides clients with gorgeous custom Blackjack tables. Enjoy socializing while playing blackjack on one of our casino tables. Whether in Los Angeles, Orange County, San Francisco, New York, New Jersey, Austin, Houston or Dallas.
Rent a top-quality Roulette Table from Full House Casino and play on the same tables selected for the 2014 Superbowl Party in New York City. Our roulette tables are custom designed and crowned with beautiful mahogany wheels.
Try your luck out on one of Full House Casino's regulation Craps Table rentals. Rent the best and highest quality for your casino party guests.
Feeling lucky enough to let the decide whether you win or lose? If so, checkout Full House Casino's money wheel.
Three Card Poker combines the speed of other casino games like craps with the excitement of poker. Contact a specialist today at Full House Casino Events to rent this casino table today.
The Best Casino Table Rentals
Would you want this at your casino party?
Casino tables make a great addition to any party. Your guests can have fun, while socializing with each other. So, is it important to have the same casino table brand at a party? Why do you need to rent the best quality tables? Does it make a difference? It actually matters more than event organizers think. Guests like to feel as if they've been transported to an actual Vegas style casino. No one wants guests complaining about the quality of the tables they are playing on. Organizers and party planners do not want to have dissatisfied sponsors. So if planners want guests to have a memorable experience, they should rent the best! It may not seem to make a difference, however, creating an authentic atmosphere makes your party one that people will remember and take about for years to come. Small details like using professional cards made with high grade plastic, not cheap paper, matters. Dealers will not be shuffling cards incorrectly or bending decks till they tear. Using real clay denominated chips, instead of cheap plastic ones, gives players the feel of playing at a real casino. This is why renting professional equipment is better than cheap popup tables. Guests will feel like its a true genuine Vegas quality experience!
So instead of renting cheap knockoffs or using a company that outsources its jobs to a low quality service, contact Full House Casino Events. When you play on our tables it will feel like a real Las Vegas casino. Guests are able to comfortably play without worrying about cards bending, drinks spilling, or inexperienced dealers. Each table adorns our unique company logo and is custom built with the same materials you find at a real casino.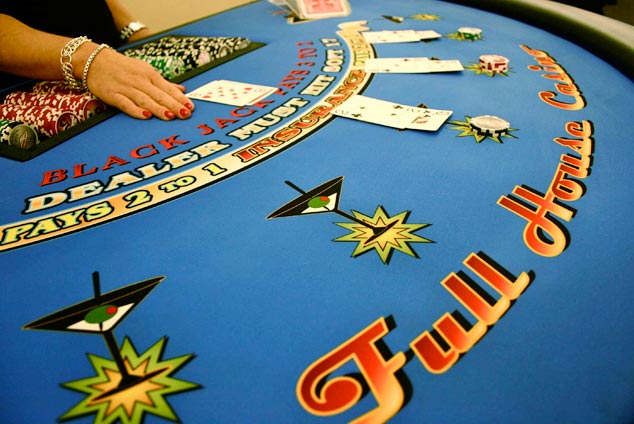 Rent professional casino tables from FHC Events
Rather than rent tables from a poorly managed company, choose a company whose employees are knowledgeable about casino games and will take the time to teach beginners how to play. You want dealers who are friendly and can easily interact with guests at any casino event. At FHCE, we are proud to supply clients with the highest quality casino table rentals. Don't gamble with other rentals services that claim to have great tables or experienced dealers. Go with the experts and choose the company who cares about their appearance and won't cut corners.